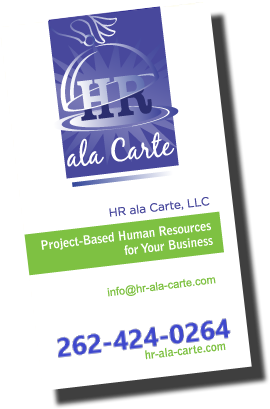 Our Story
HR ala Carte is a company focused on providing project-based Human Resources to small and mid-sized companies. We're here for you as a subject matter expert for specific projects, serving as an on-going HR "go-to", or assisting as an extra pair of hands when and where the need is there. We fill that gap for companies who don't have an HR presence, or who have a functioning HR department but understand the value of selective outsourcing.

With the breadth of experience our HR professionals bring to the table, no project
is too small or too large. Our philosophy of flexibility and providing real-world,
practical HR solutions that are consistent with your culture and overall business
strategy, is the cornerstone of who we are.

Whether we are "on call" when you need us, there to complete a project, or
we serve as your HR Department, it's always...

"HR when you need it...How you want it!"